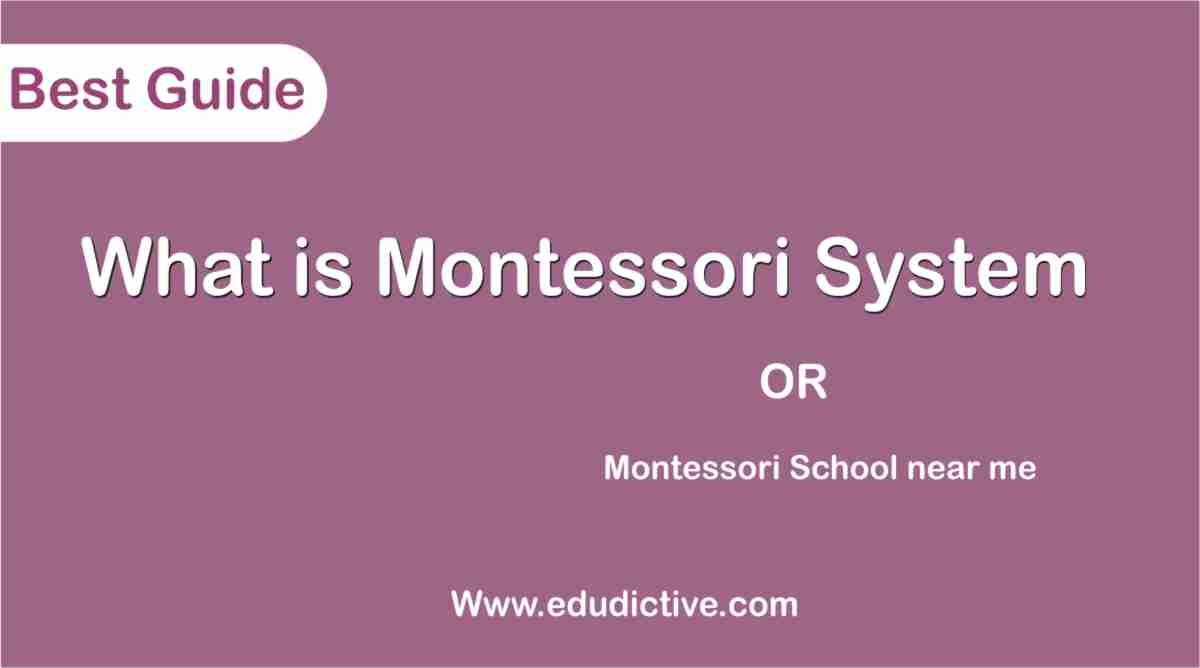 Before we go to Montessori Schools other details, First of all, we will go through a little bit about Montessori and other details about it.
What is Montessori?
Well, it is a method of education and it has been developed for more than 100 years around the globe. And, still, it is in many countries including Pakistan. Its teaching method is not the same as others. It was developed by Italian physician Maria Montessori
Like in other institutions a teacher is a center play of the whole class and it plays a key role in teaching the students. Students especially children do not like freedom. The teacher comes into the room and teaches them a lesson but according to Maria Montessori, it is not enough to groom the personality of children, to educate them properly.
What is teaching method of Montessori ?
According to this method of teaching, students enjoy complete freedom and the teacher does not teach them as per his own will. He/She just come to class and let the children do what the want and observe them, if something has to be correct in the doings of children then the teacher will ask them to correct it.
They do not teach as others do. There are separate some short courses, pieces of training and diplomas for children. They do not follow the hierarchy of systems likes Class
You can say this method of teaching a new or modern type of idealogy in education. Montessori schools are only in developed cities of Pakistan also like Lahore, Karachi, etc. It is not so common still.
Are Montessori Schools Good for Children?
There are different opinions of every people about this system of education. Actually, the main center point of this system is that the Teacher follows students not student follows children. The teacher follows the child to check what he/she does, and keep tracking if some of his/her doing is not correct then the teacher must have to educate him/her properly about that kinda doing. The main point of this system is also the Independence of the Child. So, in some cases, it is good for the grooming of a child and somehow it is not a good method of teaching, according to some people.
But due to this system, following traits can be built in child
Independence
Confidence
Boldness
Bravery
Self Esteem
One of the greatest benefits of the Montessori Method, particularly during the early learning experience, is the focus on hands-on learning. The emphasis is on concrete, rather than abstract learning, as students work on activities that teach language, math, culture, and practical life lessons, and other important and necessary activities.
Montessori School Near Me?
As we mentioned above that these are not so common as other schools and institutions are. But now these are also expanding their brand day-by-day in many Cities of Pakistan. You can find Montessori schools in many Cities like a list of Montessori Schools in Karachi is here following.
List of Montessori Schools in Karachi
AMI School
32-1/D, off Shahrah e Faisal
Ph: 3431412, 34527107, 34529651
ACCEL School
146-H/2 PECHS Colony
Karachi
Ph: 34550129
Asma's Playschool
83-C-1&11, Al Murtuza Commercial Lane #4
Phase 8 DHA' Karachi
Ph: 35348329, 35348330
Bambini Montessori
D-33, Block L. N.Nazimabad
Ph: 36645116, 36678836
Beezee Montessori
D-22/L N.Nazimabbad
Karachi
Ph: 36640060
Mrs. Mohiuddin's Montessori
B-93 Block L, N.Nazimabad
Ph: 36638143
Mrs Noor's Montessori
B-255, Block A, N.Nazimabad
Karachi
Ph: 36640586
Montessori Child Development Centre
10-D Block I, N.Nazimabad
Karachi
Ph: 36640586
Montessori Complex
St No 1 Block 13/D/1
Gulshan e Iqbal
Karachi
Ph: 34816086
Branch
C-76 Block,14
Gulistan e Jauhar
Karachi
Ph: 34633664
Montessori Children's House
29, Dehli Mercantile Society,
Off Tariq Road
Karachi
Ph: 34528670, 34528673
Montessori Children's Villa
43-3-G/6, PECHS
Ph: 34543952, 34549103
Casa Dei Bambini
77 Clifton Road, Clifton
Karachi
Ph:35870821
Kotwal's Casa
46 Parsi Colony
Afridi Shaheed Road , Garden
Karachi
Ph: 32256993
Little Steps Montessori
252-D KDA Scheme1/A
Stadium Road- Behind Time Medico
Karachi
Ph: 34131029, 34937331
0333-2250760
Markaz Montessori
F-30 Clifton Karachi
Ph: 0301-2145903
Mrs Ahmed's Montessori
6 Maqboolabad, Block 3
Off Shaheed e Millat Road
Karachi
Ph: 34936377
National Montessori
46-A/1 MAHS
Fatima Jinnah Road
Karachi
34524068
Qamar Bani Hashim
B/639 Hasnain Co-operative Housing
Society. Malir City
Karachi
Ph: 3459770
Ralis Montessori
F/37 Block 5.
Park Lane
Karachi
Ph: 35833419
Rahi Montessori
Plot#19, Korangi Creek
PECHS
Karachi
Ph: 0300-2000814
Branch
ST 3, Block 3 Scheme 5
Karachi
Ph: 35292315
Samrahi Montessori
C 143, Block 2 Clifton.
Karachi
Ph: 35291714
Seedling Montessori
C-110, Block 9
Gulshan e Iqbal
Branch
C213, Block 14
Gulistan e Jauhar
Karachi
Ph: 34622695
Montessori Childrens Centre
146-L/2 PECHS
Karachi
Ph: 34312211
Shining Pearls
D -259, Block-4, F.B. Area
Ph: 36801886
Montessori schools list in Lahore

Hamail Toddlers House
House # 15, Street # 9, Rifle Range Road, new Iqbal park, Cantt Lahore Ph: 0304-1904007
Renaissance Education Foundation
H.No.6/103, St.No.4, H-Block, Near Christ Church Road, Youhanabad, Lahore.
Ph: 042-5270578 / 5272373 / 5272108

Blessed Islamic Grammar School
120 – B, New Muslim Town, LahorePh: (042) 5860787 / 0314-3416422 Email:

[email protected]
Achievers Guild
Opposite Eden Avenue, Ghazi Road, Lahore Cantt
Ph:042-5747361, 5747362
Lahore School Education System
35-B1, Behind KFC, Gulberg-3, Lahore
042-5873304-5
ARC – Advance Resources Centre
87, B-1, Ghalib Road, Gulberg-3, Lahore.
Ph: 042-5873244 : 5762007

The Angels Montessori
St # 13, Ravi Road, Killa Muhammadi, LahorePh: 7726653 / 7725005
Bilal Ideal Home School System
9-Mehran Block, Allama Iqbal Town, Lahore
Ph: 042-5425134 / 0300-8420201
email:[email protected]
Lahore Literati School
114-Shadman-I, Lahore
Ph: 042-7563647 / 042-7596591 / 042-7587228
email: [email protected]
Mulberry School System
8-A Johar Town, Near Akbar Chowk, Lahore
Tel: 042-5176696/5174369, Cell:0305-4489046

Daystar School System7-Aitchison Street, near Fatima Masjid Stop,1 KM Raiwind Road, LahorePH: 042-36114812 / 042-35311386,
Oxford Montessori
212-C, Block Gulshan Ravi, Lahore
PH: 042-35512593 / 0321-4290365
Lahore Oxford Grammar School
Julky Stop, 31 KM main Ferozepur Road, Lahore
PH: 042-35403171 – 5 / 0303-4002233
email: [email protected]  website: www.logs.edu.pk
This information of list can be found here Montessori In Lahore
Why do Montessori Schools cost high fees?
Actually, it depends upon the school and institution in which you wanna take admission, and also it depends upon the Diploma you wanna do. But generally, their fee is negotiable.
Ask your Question
You can easily ask your questions in the comments below. Our team will try their best to promptly help you and will answer your questions as soon as possible