Global UGRAD Program Pakistan 2023 is one of the prestigious opportunities for the students, US Department of State with the funding provided by the US Government and administered by World Learning, provide a Fully Funded scholarship for the students to travel to the USA.
Global UGRAD Exchange Program 2023 for Pakistan is offered to the students every year for Mutual Understanding between the people of Pakistan and the USA. It is basically a culture exchange program through which students can learn about the Culture & Values of the USA.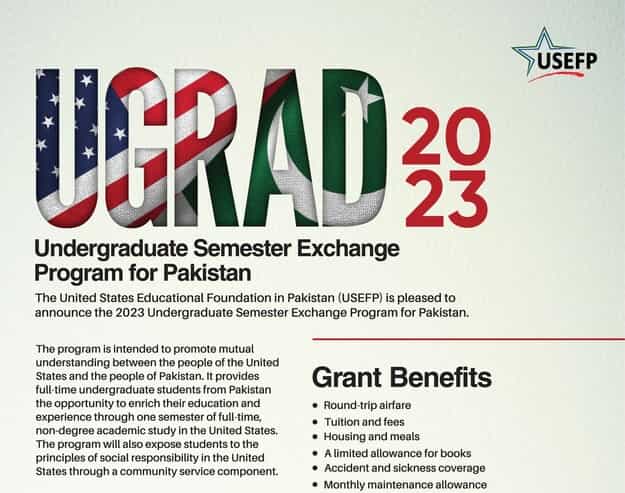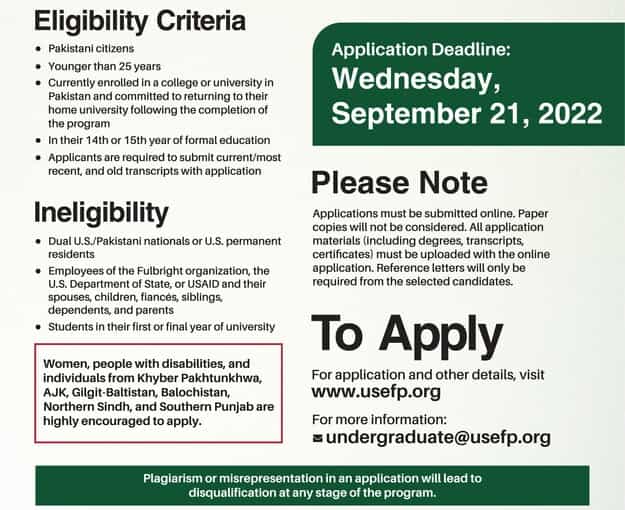 Only students who are studying at the any University of Pakistan from any area of Pakistan under the Undergraduate program, can apply for this program. Let's find out the complete details about Global UGRAD 2023 for Pakistani Students,
Check Also: List of Fully Funded Scholarships in USA 2023
Scholarship Details
Host Country: USA
Level of study: Undergraduate
Scholarship Status: Fully Funded
Eligibility: International Students
Deadline: September 21, 2022
UGRAD Eligibility
Here below is the eligibility criteria for Global UGRAD Exchange Program 2023 for Pakistani Students,
Applicant must be Pakistani citizens
He/she must be at 25 years or younger
Currently enrolled in a college or university and committed to returning to their home universities after the duration of the UGRAD program.
Strong leadership qualities and potential in their university and community activities
A serious interest in learning about the United States
High level of academic achievement, as indicated in grades, awards, and reference letters
Proficiency in English (English Language Test: Not required)
Students from diverse backgrounds, remote areas, especially those students who have not previously had opportunities to travel internationally are encouraged to apply
And, here below is the in-eligibility for Global UGRAD Exchange Program 2023,
Applicants with dual U.S./Pakistani nationality or U.S. permanent residence
Those who have a parent, spouse, or fiance who is a U.S citizen or permanent U.S resident
Employees of the Fulbright organization or the U.S. Department of State and their spouses, fiances, siblings, dependents, children, and parents. For programs funded by their agencies, employees of USAID or the HEC and their spouses, fiances, siblings, dependents, children, and parents.
Students in their final year or semester of university
Check Also: Scholarships without IELTS/TOEFL for International Students
UGRAD Scholarship Worth
Any students availing this opportunity will get,
Full tuition fee cover
Travel cost to and from the United States
Full Health Insurance
Living Stipend
Allowance for books
Accommodation and food (Separate Hotels)
Monthly maintenance allowance for the duration of the program
Despite these perks, the Global UGRAD program is the best Exchange Program available for the students of Pakistan and they can have an opportunity to explore the United States under a Fully Funded program.
How to apply?
Applications are accepted online only, on hard copies of applications or documents are accepted. You need to apply online, there is a special portal by USEFP to apply online for the Global UGRAD program 2023 for Pakistani Students.
Open Application Form from here
Start filling your application online
Add your personal and educational details
Attach your supporting documents
Prepare your SOP (Personal Statement)
Submit your application for final review
Please note that applications for the Global UGRAD Exchange Program are not open yet. So, utilize this time to prepare your SOP best.
Check Also: List of Fully Funded Scholarships in Canada 2022 for International Students
FAQs about Global UGRAD Exchange program 2023
Is IELTS/TOEFL required to apply for Global UGRAD 2023?
No, IELTS/TOEFL or any other English Language Test is not mandatory to apply for Global UGRAD Exchange Program Pakistan 2023. But, you should high command of the English Language (This is mandatory). But, if you have any English Language Test with a good score, you can attach it as a supporting document and it will be your extra.
When application deadline (last date) to apply for UGRAD 2023?
Applications are open from August 21, 2022. Students can apply now for the UGRAD Exchange Program and the last date to apply for UGRAD Scholarship 2023 is September 21, 2022, for Pakistani Students.
Is a Passport required to apply online for UGRAD 2023?
No, your Passport is not required to apply for the UGRAD Exchange Program. Although, it will be required after your selection based on your application for the interview process.
How to write a good personal statement for Global UGRAD 2023?
First, necessary thing is to be within the word limit. Do not exceed the word limit as this is causing your application to be rejected. Be your own and write what you have achieved in past and what are you doing now and what are your plans in the future. Be optimistic and provide a good reason why you are the only best one for this program.
Which semester or year students in University are eligible?
Students from any university in Pakistan and eligible to apply for the Global UGRAD program 2023, whether they are studying under 2 years, 4 years, or 5 years undergraduate programs. The only students of 1st semester/year and last semester/year are not eligible to apply for it. But, sometimes such students get a chance also, so, take a chance and apply for it.
Can Masters Students Apply for UGRAD 2023?
Yes, you can apply for UGRAD Program if you are doing a 2 years Masters Program and are in the first year of your Masters study.
Do I get any confirmation of my application for UGRAD?
Yes, an automated email is sent to the applicant by USEFP once they receive your application online. But, they will not inform you about the rejection by email in case you do not get selected under this program.